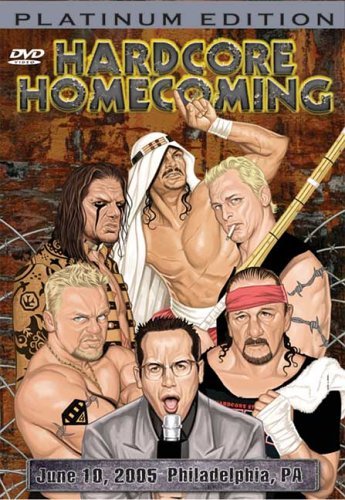 ---
Description:
For one night, the World's Most Famous Bingo Hall in South Piladelphia was brought back in time to an era that redefined professional wrestling. Hardcore Homecoming was a nihgt of nostalgic emotion, great memories, and legendary matchups. Fans traveled from 6 countries and all 50 states to witness Hardcore Homecoming, shattering box office records as the most successful independent wrestling event in U.S. History. From the shocking surprise guest appearances to the controversy with the athletic commission over using barbwire in the main event, Hardcore Homecoming left fans buzzing about one of the most spectacular shows of all time!
Over 3 Hours of Bonus Features
Backstage Footage!
Historic Bonus Matches!
Exclusive Interviews!
And Much, Much More!!!
---
Date: June 10, 2005
Location: Philadelphia, Pennsylvania
Arena: The Arena (New Alhambra Sports and Entertainment Center)
Mikey Whipwreck and Chris Chetti vs. Simon Diamond and CW Anderson
Tracy Smothers vs. The Blue Meanie
2 Cold Scorpio vs. Kid Kash
Ian and Axl Rotten vs. Kronus and New Jack
Jerry Lynn vs. Justin Credible
The Sandman vs. Raven
No Rope Barbwire 3 Way Dance: Sabu vs. Terry Funk vs. Shane Douglas with Special Guest Referee Mick Foley
---
Extras:
Hardcore Homecoming Bonus Footage
Axl Meets The Fans
The Doors Open
Shane & Francine Reunite
FanCam: Shane & Francine
FanCam: Terry Funk Stuck in Barbed Wire
FanCam: Sabu Stuck in Barbed Wire
FanCam: Ladder Breaks on Funk
Post Show Autograph Session
Post Show Q&A Session
Post Show Interview w/ Axl
Interview with The Blue Meanie
Hardcore Homecoming Commercials
Hardcore Homecoming Commercial #1
Hardcore Homecoming Commercial #2
DVD Commercial
The Arena Tour
Forever Hardcore: Director's Cut Snippets

---
Exclusive Bonus Matches: From XPW
XPW Heavyweight Championship: Shane Douglas vs. Chris Candido (April 16, 2000)
XPW Heavyweight Championship: Shane Douglas vs. Terry Funk (August 31, 2002)
XPW Heavyweight Championship: Shane Douglas vs. Justin Credible (February 28, 2003)
Jerry Lynn vs. Juventud Guerrera (February 28, 2003)
---